Lower your rate and save with our buydown program.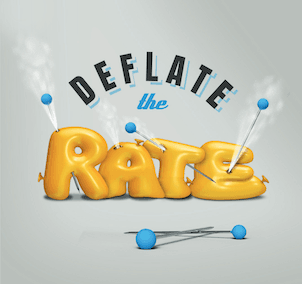 Are you waiting for interest rates to lower before you buy? We have a better idea — reduce your rate now with our Deflate the Rate program!
How is that even possible? Deflate the Rate is a temporary buydown program from Embrace® that allows you to get a reduced rate — lowering your monthly payments — for the first couple years of your mortgage.
How does it work? It's like paying points to get a lower rate, only you don't pay. The seller pays the upfront fee for you. It's a great way to move into a home you love today. And down the road when rates shrink, you can refinance to an even lower rate.
With Deflate the Rate, you can:
Reduce your monthly mortgage payments for the first one to three years*
Save interest during the life of the buydown
Put more upfront money into savings
Start building equity sooner
Don't slow down your home purchase. Reach out today, and we'll help you lower your rate and move ahead at full speed.
The buydown amount depends on the amount contributed by the seller. The borrower remains responsible for the full amount of the monthly payment if, for some unforeseen reason, the buydown funds are not forthcoming.
*Assumptions. The monthly payment on a $300,000 30-year fixed-rate mortgage at an interest rate of 6% with an 80% loan-to-value (LTV) would be $1,799 with 2 points due at closing and an Annual Percentage Rate (APR) of 6.255%. Payment does not include taxes, insurance premiums, and certain other fees that will result in a higher monthly payment. Assumptions are based on current market rates and other factors. Mortgage insurance may be required for LTV >80%. If mortgage insurance is required, it will increase the APR and monthly payment. Terms are subject to change without notice and may not be available at the time of application. Loan amount and other restrictions may apply in certain areas.
Frequently asked questions
"Chris was great to work with on my refi. He was very knowledgeable and walked through the different scenarios and made sure I was comfortable with my decision." - Matthew, MD