Our Jumbo loans are simple and straightforward.

Most Jumbo loans tend to be complicated, which makes people shy away from them. So we created our own: Jumbo from Embrace. Our Jumbo loans have competitive rates, are underwritten in-house to our own guidelines, and come with a variety of terms.
A Jumbo loan is a mortgage used to finance a property that is too expensive for a Conventional conforming loan. In most counties, the maximum conforming loan limit amount for a single-family property increased to $726,200 in 2023, as determined by the Federal Housing Finance Agency (FHFA). We're happy to let you know what the loan limits are in your area and whether a conforming or Jumbo loan would be applicable for you.
Conventional loans conform to Fannie Mae and Freddie Mac guidelines, which means the lender is protected if a borrower defaults on their loan. Jumbo loans can't be guaranteed by Fannie or Freddie, so they are considered riskier for lenders. This is why the qualifications for Jumbo loans often differ from Conventional loans.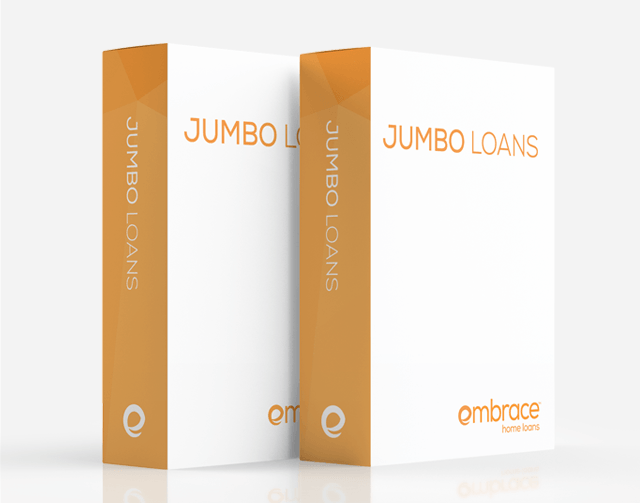 Our Jumbo loan highlights:
Single family residences, including condominiums, and 2-unit properties are eligible
As little as 20% down for loan amounts up to $3M
Adjustable and fixed rates available
Purchase, rate & term refinance, and cash-out refinance loans for primary and second homes
We also offer Jumbo loans with other qualifications, including lower credit scores, so reach out to your loan officer to learn which loan is right for your situation.
Frequently asked questions
"Rich was very knowledgeable answered all questions in a timely manner. The loan process was was painless and done quicker then I thought." - John, MA